BACK TO RFF HUB to Astronomicon.info

URCON
1979-1982
TheUniversity of Rochester Science Fiction Society hosted four URCONs from 1979 to 1982. When a few key staffers graduated. The club itself dieda year later. Leaving just us 'townies', who were on the staff, to carry on the memory of URCON.


Program
Badge
Poster
URCON I March 31, 1979 11am - midnight
GoH: Roger Zelazny
Special Guest: James Gunn
URCON II April 5, 1980
GoH: Frederik Pohl
Special Guest: George Zebrowski

| | | | | | | |
| --- | --- | --- | --- | --- | --- | --- |
| | | | | | Meet the pros | costume judging |

URCON III Sept. 25-27, 1981
GoH: L. Sprague de Camp
& Catherine Crook de Camp
Special Guest: Isaac Asimov
Media Guest: Mike Jitlov
program cover by Phil Foglio

Azimov & the Wiz

URCON IV Sept. 24-26, 1982
GoH: Joan D. Vinge
Special Guest: Hal Clement
Art Guest: Phil Foglio
program cover by Bill Beaty

Hal Clement
Phil Foglio

T-Shirt
'Winslow' by Phil Foglio, from the URCON IV program

Mia of URSFS at Contradiction 83
The URSFS experienced a brief revival in 1990 & 91
Imagine '90 GoH: Nancy Kress Fan GoH: B.J. Shea

A one day, free event. With panels, movies, dealers room.

Another guest was UR professor Sarah Higley, who has written several ST:NG episodes (as Sally Caves). Coincedently her episode about holodeck addiction, premieredthat day, and was shown at the con. (and local Trek fans bicthed abouta lack of Trek programing. - Go figure)

The Wizard of Speed and Time - The Movie Jan. 27, 1990

The NY State premier of Mike Jitlov's full-lenght film,
was hosted by the URSFS on Jan. 27, 1990. Yes, before NYC!
The URSFS T-Shirt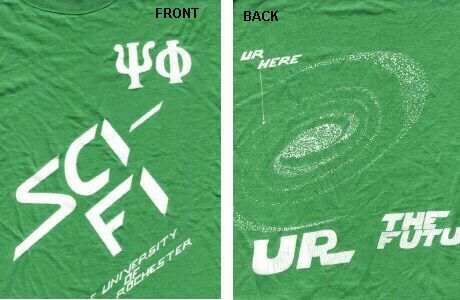 this page updated 5/24/2001
MORE STUFF: